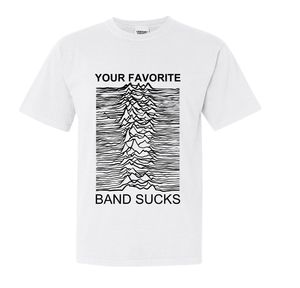 Very important that everyone knows you have the best taste in music. 

Wear this to the next hipster hangout and send us pics of the response. 
Cool 😎 shirt and podcast
I bought this shirt as a gift for my son who loves your podcast and I'm sure he'll love the shirt. He introduced me to the podcast as well. As a lifelong music lover (I'm 64), I enjoy listening to your witty banter and insights. Although I must admit, when you're trashing one of my favorite bands, it hurts! 🙂
I got what you were selling...
Potential for being sued ignored, this shirt would be so much better if it did say
JOYLESS DIVISION
NO PLEASURE
I had to buy a white one because that's all that was available. Maybe I'll smear it in sooky piss stains so I look like a real fan.